Discours d'ouverture CASP par Mirjam de Bruijn pendant la cérémonie d'ouverture au Radisson Blu Hotel N'Djamena
Je suis ravi d'être ici et d'avoir la chance de dire quelques mots, et susciter des réflexions pour le lancement de ce grand événement; la coupe d'Afrique de Slam Poetry (CASP). Un évènement et mouvement naissant, qui s'inscrit dans le cadre du panafricanisme;  un devoir panafricain.
Je parle ici comme représentante de l'organisation Voice4thought.  Voice4Thought a pour objectif de produire des connaissances qui aident à développer le monde comme un espace ou il fait bon vivre (vivable).  Nous travaillons ensemble avec les organisateurs de cette coupe : l'organisation Tchad+ et le festival 'ndjam s'enflamme en slam' , depuis quelques années ; en fait on se connaît depuis 2014. Je pense que je peux dire que nous sommes ensemble et je suis très fière de cela.
'Etre ensemble', 'partager', 'pas de différence', se sont la des mots/phrases qui, aujourd'hui, sont rare dans le jargon de la politique internationale qui est de plus en plus dominé par une politique de division, d'oppression, et d'opposition. Une politique qui influence aussi la culture populaire. Cela se voit en Europe par une forte montée de la politique de la Droite, même extrême Droite. En Afrique cette politique résulte en une situation qui donne difficilement un espace pour la dialogue et les expressions populaires.
Les exemples de cette politique sont les discours et actions autours de la migration et de la radicalisation, que nous allons discuter pendant cette semaine. Nous voulons aussi mieux comprendre les positions envers ce genre de thématiques, surtout comprendre comment ces discours et pratiques résonnent au niveau local, en Europe et en Afrique. Ce sont des discours et malheureusement aussi des pratiques qui ne laissent pas la place aux autres.
Il est temps de changer ces discours et pratiques, de créer une synergie; une énergie qui s'oppose à ces développements, une énergie qui nous met ensemble, qui développe le respect pour les autres.
Pourquoi j'ouvre avec ces mots ? Parce que la coupe de  slam d'Afrique nous offre une Plateforme pour cette discussion et pour une réflexion partagée.  Dans cette dynamique unique nous pourrions contribuer à changer ce monde.
Voir le groupe de personnes qui sont ici dans la salle et qui seront présentes pendant la coupe à N'Djaména : de tout côté de l'Afrique et de tout côté de l'Europe ; De différents couches sociales ; et de différents niveau d'éducation : des ministres et universitaires, aux jeunes sans travail. Avoir tous ce monde ensemble est unique et on doit l'utiliser pour montrer une alternative au monde, qui est si nécessaire ; on le fera ensemble.
La coupe de slam est cette occasion unique : une réunion panafricanistes qui réuni pas juste des gens, mais des slammeurs qui sont, ou peuvent devenir, de nouveaux intellectuels de l'Afrique, qui peuvent peut être se mettre dans les pas de leurs ancêtres comme Senghor et César Aimée, comme Thomas Sankara et Patrick Lumumba ; en suivant nos parents qui ont voulu un autre monde mais qui  n'ont pas pu réaliser leurs vœux, à cause des circonstances de leurs vie. Nous devons trouver l'énergie de les remplacer et de les honorer !
La coupe de slam a un devoir : faire écouter les voix de ceux qui ont quelque chose à dire et qui parlent pour les autres,  je cite ici un des slammeurs bien connu au Tchad,  'pour ceux qui n'ont pas cette voix et qui n'osent pas dire'; et certainement donner une voix aux femmes, une des vœux des jeunes slammeuses bien présentes ici.
Les textes que nous écouterons pendant la compétition, les concerts et aussi pendant vos rencontres en privé au village artistique et ailleurs, vont ouvrir notre esprit, et surtout doivent ouvrir le débat avec ceux qui sont les sujets de ces poèmes.
La coupe donne l'espace aux débats ouverts pour chacun, pour discuter des problèmes si proéminents dans notre monde et la politique internationale : pour nos débats nous avons choisi les thématiques actuelles : la migration et les nouvelles frontières de l'Europe (qui se trouvent au Sahel) ; la radicalisation et la force positive qu'on en trouve ; et le genre et l'éducation qui n'ont pas encore eu à se lier à tous les couches sociales … Vous êtes la bienvenue d'y venir et d'y participer.
Les ateliers, les concerts,  et tous les espaces de N'Djaména ouvertes aux débats vont transformer pas seulement N'Djaména mais surtout aussi nous : transformation de nous dans un collectif qui pourrait former le noyaux d'un mouvement, panafricaniste, mondial, surtout contre la polarisation.
C'est notre responsabilité de dire ce qui ne va pas, à nos gouvernements, à ces organisations internationales, à nos voisins. Il est certes que nous rencontrons de résistance, mais enfin aussi la résistance sera utile pour ouvrir le débat avec ceux qui ne pense plus aux autres, mais qu'on doit forcer de 'partager', 'd'être ensemble', parce que nous ne pouvons rien dans ce monde, qui est sérieusement en danger, sans nous. Ensemble nous sommes l'alternative et nous pourrons créer une histoire et un narratif qui a la force et pouvoir pour le changement social et politique.
Je souhaite qu'après cette coupe que nous pourrions dire en se regardant dans les yeux que vraiment on a pu !
Merci Croquemort et Faithfull, l'équipe d'organisation à N'Djaména et les autres membres du bureau de la coupe pour avoir créer cette opportunité !
Je vous souhaite tous un très agréable séjour et surtout beaucoup d'inspiration pendant ces 4 jours à N'Djaména.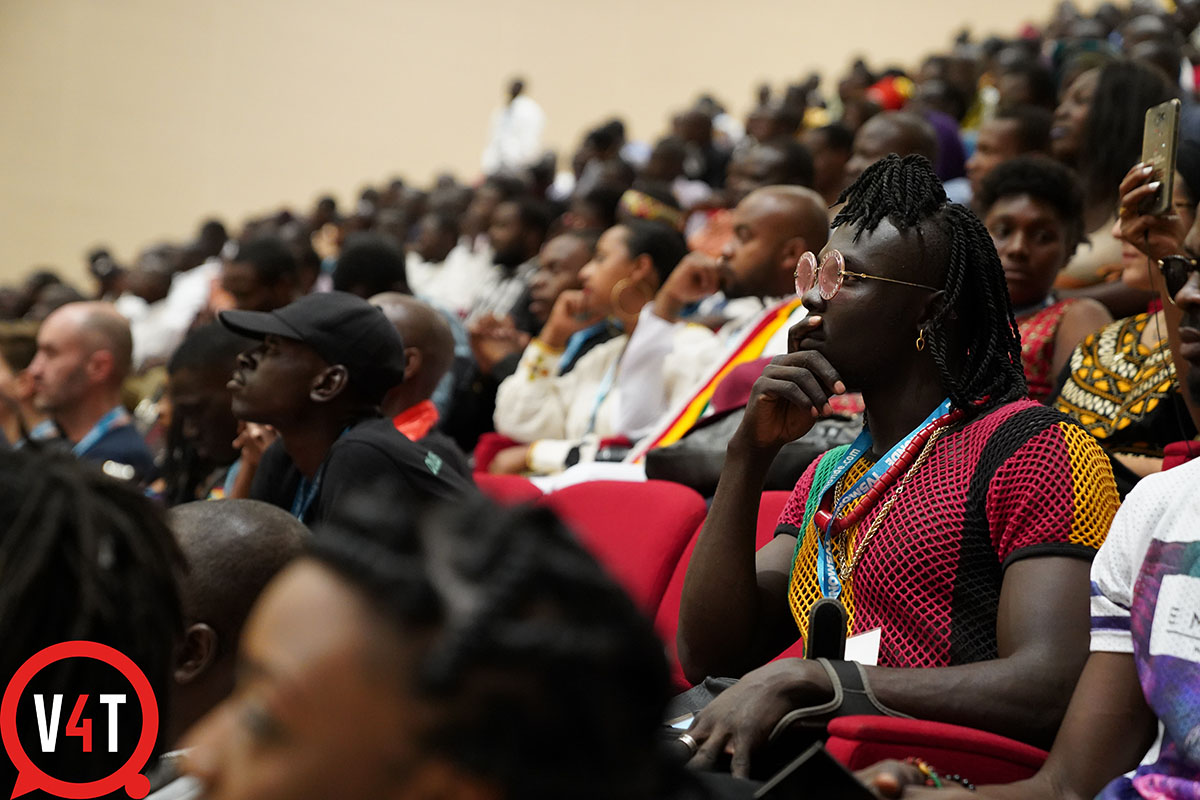 Voice4Thought (V4T) is a digital and offline platform that provides a space for voices from around the world to express their thoughts. V4T supports artists, academics, journalists, bloggers, and others who are engaged in socio-political change.