C'était du 8 au 12 mai 2018 pour une des rares fois le Ministères des Arts et de la Culture du Cameroun invitait le Slam Camerounais Grand Slam National Cameroun et 237Paroles au programme officiel du Salon International du livre. D'ailleurs notre stand était parmi les plus couru du salon tous les jours de 16h – 17h. Les slameurs et conteurs s'enchainaient sur la scène chacun avec sa version du Cameroun Actuel en cette année d'élections présidentielles où le Cameroun anglophone ne décolère pas contre le système politique en place depuis plus de 30 ans. Cet évènement était l'opportunité pour nous artistes slameurs de donner notre opinion de la situation socio politico culturelle du Cameroun. Le slam est considéré comme un art mineur, pourtant notre Association Grand Slam National Cameroun organise chaque année un Concours National de Slam qui n'obtient aucun soutien de la tutelle puisque la subvention est une denrée rare.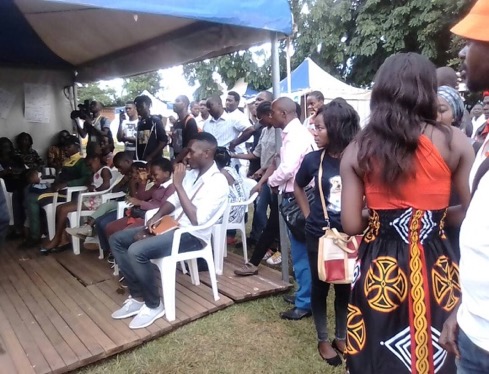 La mobilisation était effective 5 jours non stop les Slameurs passionnés de l'art oratoire (Faithfull, R'n, Tamancho, Hugo, Yan Steph, Fadif et autres) vont user de leurs verbes sans moyen de transport pour honorer de leur présence au salon tout en espérant une récompense à la fin de nos brillantes prestations. Mais grande sera la déception le Samedi soir, déjà la nuit de vendredi nous étions pas conviés à la soirée de Gala dans un hôtel de place 5 étoiles où tous les invités du salon y étaient même les conteurs avec qui ont partagés nos scènes.
Aujourd'hui le Salon est terminé comme toujours le slam Camerounais n'a que ses yeux pour pleurer comme toute la jeunesse camerounaise qui croit en des lendemains meilleurs, serions nous orphelins à vie? Pourquoi ce système mène la vie difficile à la jeunesse qui est considérée comme le Cameroun de demain, de ce salon les Slameurs ont perçu une récompense financière minable par rapport à nos prestations très appréciées, nous nous sentons abusés mais continuons la route qui mènera notre art au sommet du monde.
Faithfull, artiste slameur
Promoteur du Concours National de Slam au Cameroun
Secrétaire Général de le CASP (Coupe d'Afrique de Slam Poésie)
Voice4Thought (V4T) is a digital and offline platform that provides a space for voices from around the world to express their thoughts. V4T supports artists, academics, journalists, bloggers, and others who are engaged in socio-political change.